Leonardo DiCaprio With Mom Irmelin at Soccer Game
Mama's Boy Leo Can't Resist Including Her in His Selfie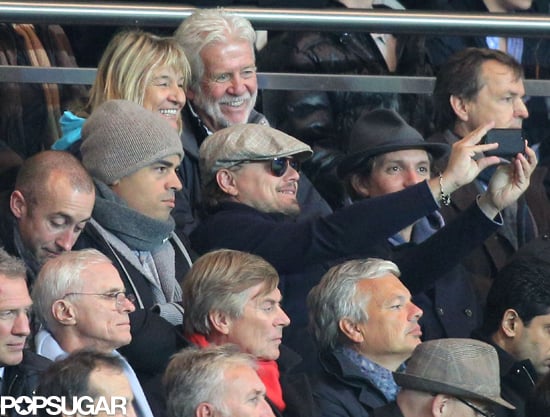 Leonardo DiCaprio may be one of the biggest stars in Hollywood, but that doesn't mean that he isn't too good to get excited about hanging out with his mom. The actor popped up in Paris with several friends, including Lukas Haas and mom Irmelin Indenbirken, to attend a soccer match between Paris Saint-Germain and R.S.C. Anderlecht. During the match, Leo pulled out his phone to snap a selfie with his mom and her male companion, who sat behind the A-list star.
Leo is back in Europe after taking a quick trip out to LA over the weekend to host the LACMA Art + Film gala on Saturday. He made the trip without his model girlfriend, Toni Garrn, by his side as she was busy with a photo shoot in the Hamptons over the weekend. It isn't clear if Toni joined Leo in Paris, but she didn't attend the soccer match with the actor and his entourage.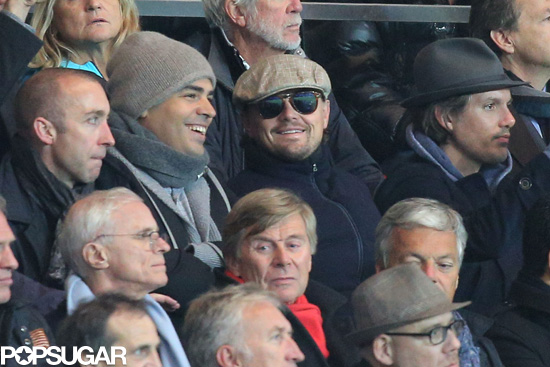 Today, Leo popped up at the TAG Heuer store in Paris to promote the watch brand's new location in the City of Light. Leo's mom didn't attend the store opening with the actor, but he did look very dapper in a gray suit.