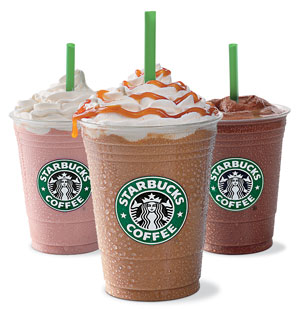 Who doesn't love a Frappuccino® blended beverage? Now, you can love it even more because you can have it any way you like. With the new "however‐you‐want‐it" Frappuccino® blended beverage from Starbucks, you can choose your own ingredients to make your favorite drink!
Dial up the coffee intensity with an Extra Coffee Caramel. Or keep it light with a 100-calorie skim tall Mocha Light. And we haven't forgotten about our soy milk drinkers — try a twist on the classic with a delicious Soy Strawberries & Crème, made with all natural strawberry sauce and soy milk.
Visit frappuccino.com to create your own or come to Starbucks and try one today!