Lindsay's Alluring Interview and Movie News
Lindsay's Alluring Interview and Movie News
Lindsay Lohan has dropped out of the film The Best Time of Our Lives which she was scheduled to start shooting next week with Keira Knightley. Leslie Sloan Zelnick says that it was due to contract negotiations. Seems odd to pull out so last minute but then again, we expect LL to keep things exciting for us. She is displaying her weird ways again in this month's Allure. She's saying she doesn't think she's really an addict and that she went to rehab to get away from the paparazzi. Here's more: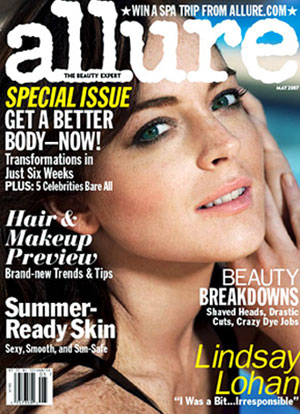 Reflecting upon her month-long stint in the addiction-treatment facility, Lohan, 20, tells Allure for its May issue that she had awakened at home last Jan. 17 to a house surrounded both on the ground and in the air by paparazzi.

Her therapist suggested Wonderland, up in Laurel Canyon, and once Lohan was told that paparazzi were kept out she drove there with a friend who had "more problems than I did," she recalls.

She then checked out the place and found "a quiet room, all white, with parquet, and it was different! I just felt safe," she says. "I thought, 'I'm going to stay here tonight.' And I stayed there. For a month. It was great."
Based on the tidbits we've seen so far on this interview, I can't wait to read the entire article when it comes in my mail. Lindsay always seems to say things she shouldn't. Even more news is breaking that LL's myspace has been hacked. Stay tuned for more juicy news on that topic.