Lindsay Back on Dating Scene and Loving It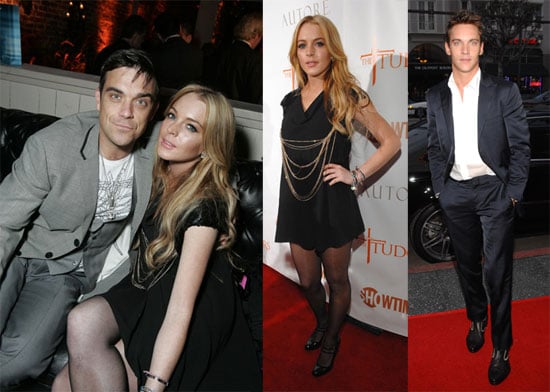 0
Lindsay Back on Dating Scene and Loving It
Lindsay was looking pretty close to fellow recent-rehabber Robbie Williams at last night's premiere of The Tudors and Les Deux after party. She obviously has a weakness for European men, but we doubt it was anything more than a friendly chat. Linds already has her hands full with a few other foreigners, and she's having herself a grand time. Here's more:
I'm dating," Lohan, 20, told PEOPLE Monday at the Los Angeles premiere of Showtime's The Tudors. "I'm really happy and I'm having fun."

The actress, who split with restaurateur Harry Morton last fall and was recently spotted chilling with Stavros Niarchos at Hollywood hot spot Teddy's, said she'd gleaned some important lessons from her stint at the Wonderland Center in L.A.

"There's no way you can't learn a lot in a program like that, and it's good," she said. "I recommend it for anyone who needs it."
Well, we suppose anything that helps her wrangle it in a little bit is a good thing! It'll be interesting to see which of her newly single Euro-dude paramours - James Blunt, Stavros, or Jude -- she'll be seen with again. You never know with LL!
For more pics of The Tudors premiere including Jonathan Rhys Meyers, America Ferrera, Bai Ling, Maggie Grace, Gabrielle Anwar and more just
Images include America Ferrera, Capser Van Dien, Eric Mabius, Gabrielle Anwar, Jonathan Rhys Meyers, Maggie Grace, Sam Neill, Robbie Williams, Bai Ling & Callum Blue.