Lindsay Lohan scored big at the Angeleno magazine party for Nefarious Jewelry last night with over $40,000 in swag including a Spider Web diamond necklace and diamond encrusted sunglasses (pictured). She arrived late, which she is notorious for, but this time it wasn't a result of her partying. Quite the opposite in fact. She was at an AA meeting instead, she said. Here's more: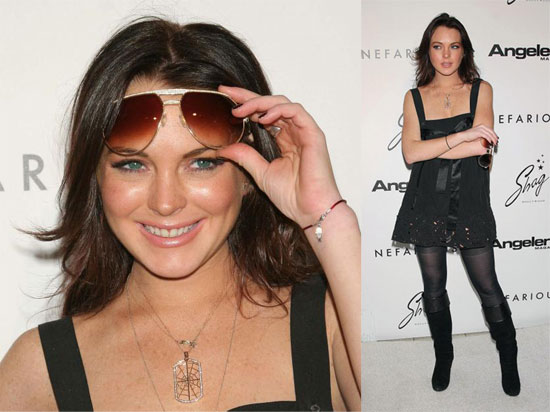 I've been going to AA, for a year by the way," she added. Why didn't she say so until recently? "Well it's no one's business. That's why it's anonymous!"

"I haven't had a drink in seven days. Or anything. I'm not even legal to, so why would I?" Lohan, 20, told PEOPLE. "I don't drink when I go to clubs. I drink with my friends at home, but there's no need to. I feel better not drinking. It's more fun. I have Red Bull."

But, she added, "I didn't feel bad before. I never felt bad. I just wanted to, like, find a balance. I was out too much. I was too caught up. I mean, I'm 20 years old. I was off from work, I was getting ready to start a film, and I was like going out just to get it out of my system. I was going out too much and I knew that, and I have more to live for than that."

Lohan said she hopes to shift the focus from her partying to her career. "I was like, I don't want to be written about at these clubs with these people. I work, I act, I have a living. That's what I do every day. I work every single day."
Sounds like LL is drinking her AA kool-aid. We'd much rather spend time writing about her acting than her partying also. Let's just hope she sticks with her new water trend especially if she expects to be getting diamond encrusted swag 10 years from now - she should definitely concentrate on her career! For more pics of LL showing off her swag just read more