LL got really excited over the weekend when she thought she was being asked for her autograph. But in a shocking red carpet moment, the woman had no interest in LL's autograph - instead she was serving Lindsay with a subpoena after an event honoring George Clooney. TMZ reports: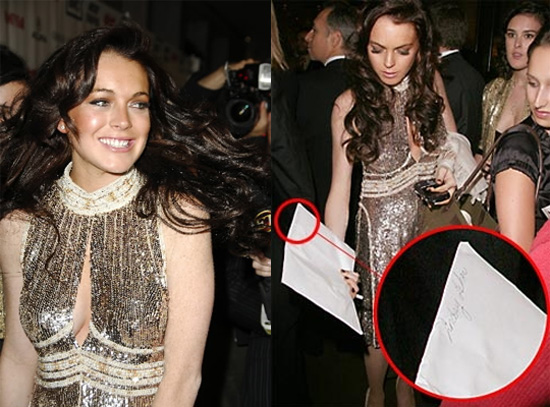 It all started after the actress was approached by a woman who Lindsay assumed was an autograph seeker on her way out of the event. Lindsay said to the woman "You're my first autograph!" to which the woman promptly answered "You've been served." According to witnesses, Lindsay then dropped the paperwork and chased after the process server. No word on whether she caught up to the process server.

The lawsuit involves Dina Lohan (Lindsay's mother) who is being sued for fraud, theft, and violation of contract. The suit, filed in Las Vegas, claims Mama Lohan signed a contract with Antonio Almeida and Mitchell Chait authorizing them to manage Lindsay's music career and record her album. The suit then claims Dina dumped the two managers and signed her daughter with Tommy Mottola's Casablanca Records, who in turn produced Lindsay's two albums. The suit seeks tens of thousands of dollars for cash the producers say they loaned to the Lohans.
More pics so read more