Lindsay's Just Living La Vida Lohan
Lindsay's Just Living La Vida Lohan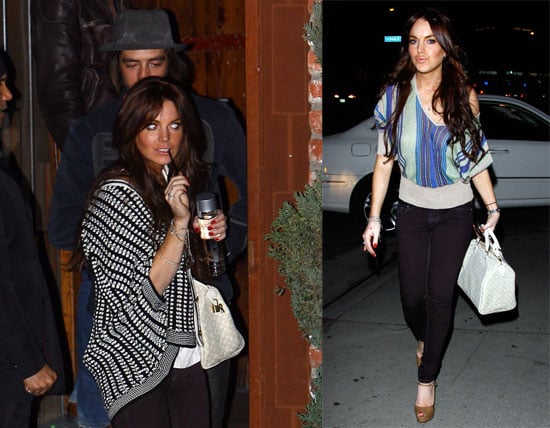 0
Lindsay's Just Living La Vida Lohan
Lindsay Lohan ducked out of Hyde last night with her two favorite accessories: a bottle of water and a new man friend. Her hard-partying ways seem to have taken a turn for the more obvious in 2008, and her antics are back to being fairly bizarre, like this Thursday's photo exhibit about her tattoos. While it's hard enough to watch her get back into bad habits from afar, we have a much more up close and personal look into the Lohan family coming soon. Dina's ill-conceived reality TV show has a name, Living Lohan, and is officially due to premiere this summer. A statement from E! says:
"The Lohans are one of the most intriguing families in the entertainment industry today . . . This is a family that knows how to roll with the punches and come out on top. Dina is an incredibly hard-working, passionate mom that I think our viewers will find both relatable and highly entertaining."
The show will focus on Dina helping Ali launch her singing and acting career but will also star all the other Lohan children. While Dina has expressed her hopes that Lindsay be on the show (of course, her biggest little star!) I certainly wouldn't blame LL for staying as far away from those cameras as possible. So — who's excited for Living Lohan?