Lindsay Lohan: Out of Work Actor and Not Loving It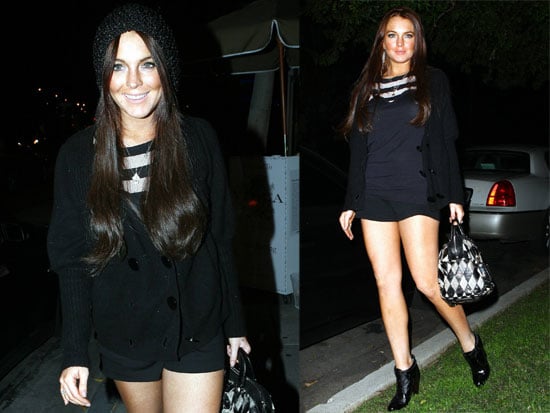 0
Lindsay Lohan: Out of Work Actor and Not Loving It
Who wears short shorts? Lindsay Lohan wears short shorts! Little Miss LL rocked those legs out around LA last night after spending her day showing the same skin in some cutoffs. While we may not be seeing much from Lindsay professionally these days, she sure is making the magazine rounds this time stopping to give a sound bite or two to Paper Magazine. As usual, she's got no apologies. Here are highlights:
On getting roles: "They either want to take a chance or they don't, is how I see it."
On partying too much: "I had a lot going on in my life and that was a way of hiding from it ... I hadn't seen my dad; I had a lot of work stress 'cause I was constantly working and never took time to stop ... Everything was go-go-go, and the easiest thing was to run away from it, going out and drinking at night ... You know, you don't have to think when you let go sometimes ... But I didn't realize it was getting in the way of my work – what I've worked for my whole life."
On getting help: "There's not really much else to do when you're sitting in a treatment center. It's like, 'Why am I here? Let's think."
On the future: "Right now I just want to find a great script, a great role ... I was so used to working and working and working, and for a good few months there was nothing for me to do. Now I know what it's like to be an out-of-work actor, and how much it scares me."
It seems like Lindsay and her similarly troubled starlet friends have about endless second (third, fourth...) chances, so I'm thinking she'll still be able to get roles. Let's just hope that returning to work doesn't mean a full return to her former lifestyle too. Though, ugh, it looks like it might be.