Lindsay Lohan Wants Drunk Cougars Off the Roads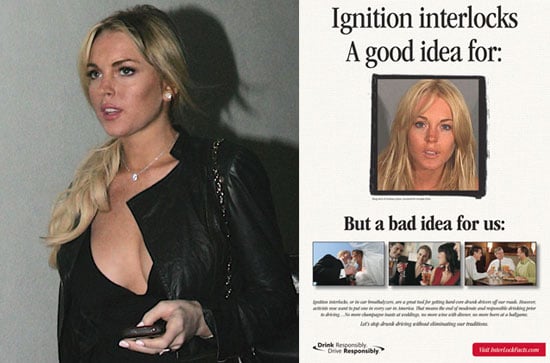 0
Lindsay Lohan Wants Drunk Cougars Off the Roads
Lindsay Lohan showed off her bitchface in LA on Wednesday night, but little did she know that this morning would bring something to actually be pissed off about. Before we get to that, some good Lohan news — not only is she in talks to appear on the season finale of Ugly Betty, but she could be back for way more in the fall. Anyway, this morning USA Today ran an ad clearly using LL's face to get attention, paid for by the liquor industry implying that while starlets need the ignition interlock devices that help keep drunk drivers off the roads, the rest of us don't. Lindsay's lawyer understandably outraged issued a statement to TMZ:
"USA TODAY is idiotic for running such an irresponsible advertisement, suggesting that drinking and driving is some kind of American "tradition" we should protect. Not identifying that this ad was paid for by the liquor industry is profoundly reckless.

Drunk, old, white businessmen, drunk cougars out for girls night out, and drunk wedding parties should be kept off the roads of America. Lindsay Lohan fully endorses ignition interlock devices that have been well-proven to save lives."
Sounds like a fun lawsuit waiting to happen. Using Lindsay's mugshot like that is clearly idiotic, but also getting the attention that they wanted. Now, let's just hope those drunk driving days and ways really are over for Miss Lohan who learned her lesson.