Lindsay's on the Move
Lindsay's on the Move
The Chateau Marmont's dreams are coming true... after calling the fabulous hotel home for more than a year, LL is packing up her stuff and moving out. She put her condo in West Hollywood on the market just last month, but has now decided to move back in. Page Six reports: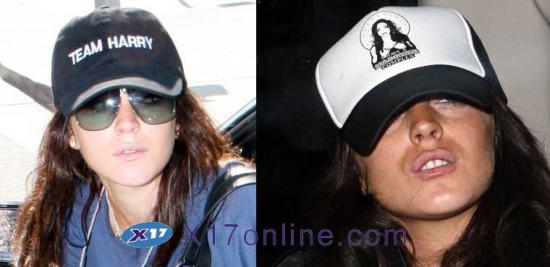 The Chateau Marmont is finally getting rid of Lindsay for good. She's taken her apartment in the ritzy Sierra Towers in L.A. off the market and plans to move into the condo she bought last year as an "investment opportunity," but never inhabited, our source says.

The pad was up for grabs for a whopping $2.85 million but found no takers because "it was on the wrong side of the hill with no views," according to our insider. "Lindsay will stay part-time at the Chateau for another month before moving out completely."
Not only can LL not make up her mind about who to date and where she wants to live, but she can't decide which hat to wear. She is desperate to win back Harry but we don't think wearing the so-last-season "Team" hat is the way to go. Also not a fan of the "I have a Madonna Complex" hat. What is she? More pics of LL also telling us she likes the Daily News so read more