Lindsay and Samantha Fight and Learn . . . From Britney
Lindsay Lohan looked a little pissy on her way into a gated community with Samantha yesterday. While the holiday season can be stressful for everyone, it seems to be particularly so for Lindsay and Samantha. Samantha already assured us that she's fine, details have emerged about a blowout fight between the girls that led up to Samantha's hospitalization. After reading Lindsay's newest blog, seems like she has a lot going on in her head from Britney Spears to Michael's illegitimate child. She said: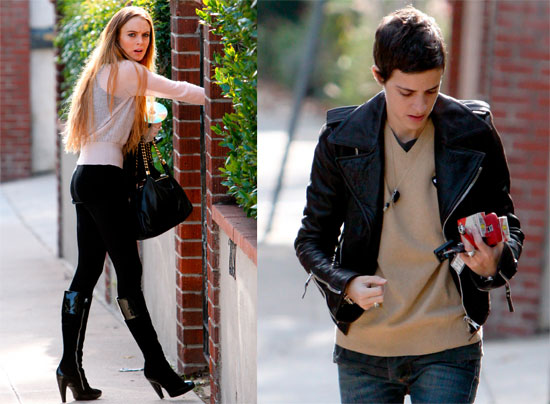 i think that people go through a lot in life. and the things that we go through, whatever they may be, simply just make us stronger in the long run... that is, if we actually take what it is we have learned from our mistakes and teach ourselves what NOT to do in the future. i have gone through a lot in my past, and to be completely honest, i am still going through a lot right now.. my father just let my family and i know, amongst others that he had another child after my little sister Aliana, or maybe he had it before Aliana?? either way, he cheated on my mother and that really sucks... MERRY CHRISTMAS!!! wow- do i sound like "debbie downer" or what?
To read the rest of Lindsay's post and how she feels about Britney just read more.
not trying to be... but back to the real reason for this blog-i feel like Britney Spears is an amazing talent, and she has gone through a lot, (just as i have) in the public eye.. which is not necessarily a bad thing.. It teaches young girls and boys that there are certain things in life that you should not let get in the way of your dreams and accomplishments. also that you need to take care of yourself before anyone else, and i mean anyone and everyone else. because at the end of the day, you have to look at yourself in the mirror and see who you really are. stripped of all the distractions in life. so YAY Britney for just being you and still following through with your dreams. i know i am a bit late in writing about this record since it came out already, but better late than never!!!! :)
Lindsay went on to send love to her family since she's spending the holidays in LA with Samantha and give her recommendations off Circus. After the year she's had, sounds like LL and Samantha could really use a little downtime before NYE.
X17 Online.com