Lindsay and Samantha Relationship Confirmed Yet Again
Start Slideshow
ADVERTISEMENT ()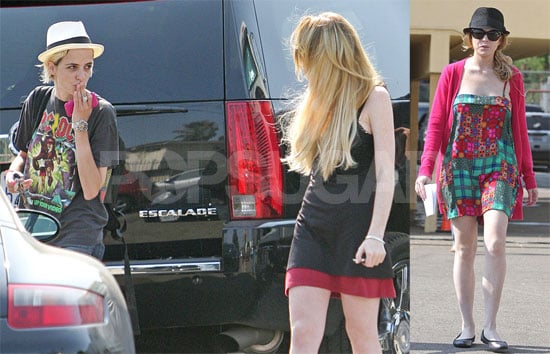 0
Lindsay and Samantha Relationship Confirmed Yet Again
Samantha Ronson blew Lindsay Lohan a kiss leaving the set of Labor Pains in LA yesterday. While it's no big secret that Lindsay and Samantha are more than just attached-at-the-hip BFFs, they're yet to confirm anything themselves, so it's not really our place to say. Apparently not everyone feels that way, however, and Sam's brother Mark's girlfriend Daisy Lowe opened up about the girls. She told UK's the Mirror:
"I met Lindsay and Sam for the first time during the weekend before the Coachella festival. . . Sam is an amazing girl. The four of us had a brilliant time — a real laugh . . . Lindsay is really down to earth. Her and Sam make a lovely couple — they seem really happy. . . Their relationship is totally genuine. And they're just so sweet together . . . Mark totally approves. But we're not going to double-date again — I mean, would you go on a date with your brother? It's just a bit weird and anyway they live in LA, so it's kinda difficult . . . But I'd definitely love to see them again."
From magazine covers to just general rumors, LL and SR's relationship speculation is everywhere these days. Whether or not Lindsay herself ever talks about it, we're just happy to see that she seems on cloud nine with Sam, she's staying out of trouble, and she always has that smile on her face when her girl is around.