Lindsay Speaks: "I Am Addicted To Alcohol And Drugs"
Lindsay Speaks: "I Am Addicted To Alcohol And Drugs"
Lindsay Lohan, who earlier today was charged with 7 misdemeanor counts and no felonies (which most of you agree is a little light), will serve one day in jail. According to TMZ, she was credited for time spent when she was arrested and will serve 10 days of community service in lieu of two more days in jail. On top of that she will be on probation for 36 months and attend 18 months of alcohol eduction. By January 18, Lindsay must prove she has completed rehab. Lindsay, who has remained quiet during all of this and currently remains at rehab in Utah released the following statement: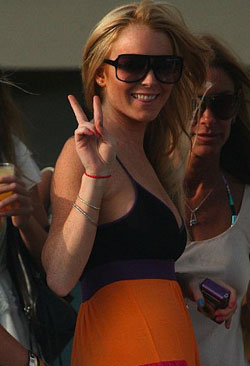 It is clear to me that my life has become completely unmanageable because I am addicted to alcohol and drugs.

Recently, I relapsed and did things for which I am ashamed. I broke the law, and today I took responsibility by pleading guilty to the charges in my case. No matter what I said when I was under the influence on the day I was arrested, I am not blaming anyone else for my conduct other than myself. I thank God I did not injure others. I easily could have.

I very much want to be healthy and gain control of my life and career and have asked for medical help in doing so. I am taking these steps to improve my life. Luckily, I am not alone in my daily struggle and I know that people like me have succeeded. Maybe with time it will become easier. I hope so.