Liv Is Back, and She's Not Going Anywhere
Liv Is Back, and She's Not Going Anywhere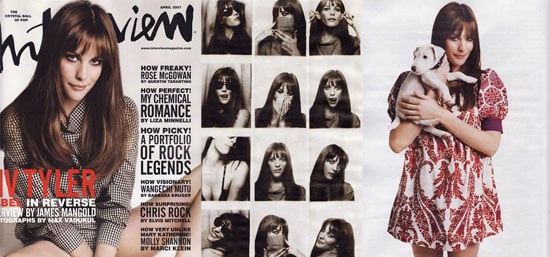 0
Liv Is Back, and She's Not Going Anywhere
I love Interview magazine for its usually perfect decisions on who to let interview whom in its pages (did anyone else catch Devendra Barnhart interview Lindsay Lohan? Cra-crazy) and this month's pairing of Liv Tyler and the director who "discovered" her, James Mangold is no exception. Liv, who I'm happy to see back in her acting pants, looks adorable, youthful, and happy in the pictures. In the interview, though, she tells her friend how she deals with more difficult times (and why she needed to return to the screen). Here are highlights:
JM: When you find yourself in a place where you don't believe in yourself, what do you do?
LT: I just stop and go stand in a dark corner and breathe as deeply as I can into my stomach [laughs] I know this is going to sound crazy, because I'm not religious at all, but sometimes I pray. I just say, "Please help me. Guide me to feel what this person's feeling, and help me to feel real, feel connected."

JM: Do you blame yourself or get pissed off at other people when you're struggling?
LT: No, but are you asking if I spiral? I haven's lately. I worked so much when I was younger, and then I went through a long period when I didn't work a lot, and then I got pregnant and took two years off. I've only just now started to get back to work, so it feels really new. I feel energized and connected in a way that I never felt before...Even if I have to do bad TV shows and soaps forever, this is what I'm meant to be doing [laughs].
Something tells me that Liv won't end up on the soaps, but if so, they would be lucky to have her. Really though, it's all downhill from Empire Records, right? Kidding, kidding (kind of).
To see more pics of Liv in Interview just