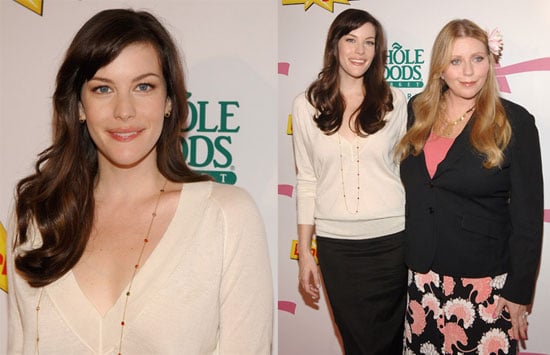 0
Liv Raises Awareness With Some Help From the Fam
A few weeks ago Liv spent some quality time with Milo and her dad, but last night was a ladies' bonding session to raise breast cancer awareness in NYC. Emergen-C has teamed up with Liv as well as her mother and her grandmother for the launch of Emergen-C Pink, their latest fizzy drink in pink lemonade flavor and 50 percent of the profits will go towards breast cancer. Apparently Liv was already a huge fan of the product, which made it easy for her to get behind the campaign. She said,
"As a young mother, taking responsibility for my own health has never been more important, and using Emergen-C has always been a part of my daily routine. As a working mother always on the go, it's the perfect way for me to get my daily dose of vitamins and minerals, and it tastes delicious! My mother, grandmother and I feel so lucky to be a part of this special new Emergen-C Pink campaign to help inspire breast cancer awareness and to provide support to women of all generations."
Emergen-C is already a popular product, so we're hoping Liv's support (plus the yummy flavor) will get people into it since October is Breast Cancer Awareness Month.
Lots more pics of Liv with her mom and grandmother so just
Images include Liv Tyler, Bebe Buell and Dorothea Johnson.