Live People's Choice Red Carpet and Backstage Streaming
People's Choice Awards Red Carpet and Backstage LIVE on PopSugar — Watch Now!
The 2012 award season is finally here, and tonight we're kicking things off at the People's Choice Awards! The evening will be full of surprises and major fashion moments, and we want you to be able to follow along through it all! We're going LIVE on the PCA red carpet and backstage, so make sure to tune in now right here on PopSugar. Want to get in on the action? Keep track of our coverage on Twitter, Pinterest, Instagram, and Facebook too! Watch now and check out the People's Choice Awards at 9/8c on CBS!!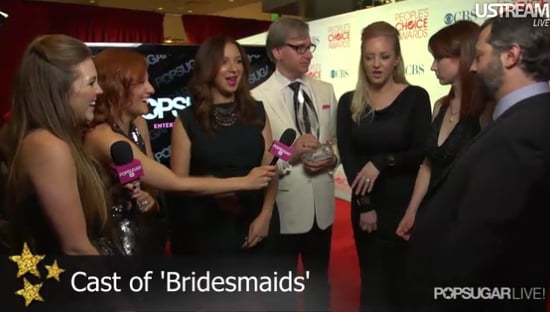 The PopSugar homepage! — We'll be live blogging from the red carpet as your favorite musical artists, TV stars, and big-screen celebrities arrive. Check back with us frequently to see photos of the show, behind-the-scenes images, and all the moment-to-moment action taking place!
UStream — Watch LIVE red-carpet arrivals, backstage interviews, and our fashion coverage with PopSugar editors Allie Merriam and Lindsay Miller as well as FabSugar TV host Allison McNamara
Twitter — We'll tweet LIVE from the red carpet and during the show! Stay tuned for breaking news and be sure to follow us for all your People's Choice Awards updates
Facebook — Be sure to like our Facebook page and keep an eye out for our red-carpet galleries, fashion polls, and pressroom coverage
Instagram — Want a behind-the-scenes look at the People's Choice Awards red carpet, audience, and more? Then follow us on Instagram at @PopSugarEditors!
Pinterest — For the hottest, sexiest, and prettiest red-carpet looks, be sure to subscribe to our Red Carpet Favorites board!