Liz Cheney on Gay Marriage
Gay Marriage Disrupts Cheney Family Values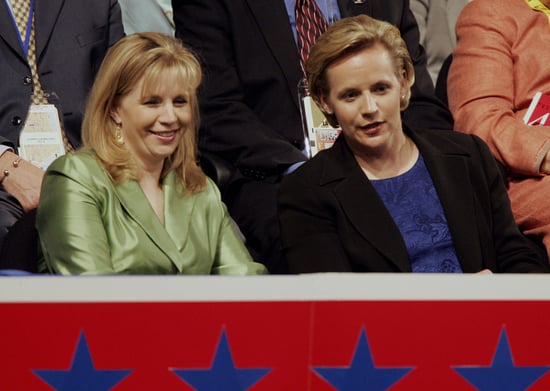 When it comes to family values, the Cheney family is split. Dick Cheney's elder daughter, Liz Cheney (pictured left), is currently running for Wyoming's Senate seat, and on Fox News Sunday, she reiterated her position on a crucial social issue: gay marriage. Liz is opposed to it even though her younger sister, Mary (pictured right), is gay and married with a family. On Sunday, Liz said, "I love Mary very much; I love her family very much. This is just an issue on which we disagree."
Well, despite her experience in politics and working on the antigay marriage Bush/Cheney campaign, Mary Cheney was not about to chalk her sister's comments up to electoral maneuvering. Mary's wife, Heather Pope (pictured below with Mary), took to Facebook to post a public response to Liz. And Mary shared it, writing, "Liz — this isn't just an issue on which we disagree — you're just wrong — and on the wrong side of history."
Heather's full Facebook post read:
I was watching my sister-in-law on Fox News Sunday (yes Liz, in fifteen states and the District of Columbia you are my sister-in-law) and was very disappointed to hear her say "I do believe in the traditional definition of marriage."

Liz has been a guest in our home, has spent time and shared holidays with our children, and when Mary and I got married in 2012 — she didn't hesitate to tell us how happy she was for us.

To have her now say she doesn't support our right to marry is offensive to say the least.

I can't help but wonder how Liz would feel if as she moved from state to state, she discovered that her family was protected in one but not the other.

I always thought freedom meant freedom for EVERYONE.
Keep reading for the rest of the story.
While having a gay sibling hasn't prompted Liz to change her views, at least publicly, empathy does have an impact on the American public in general. A poll earlier this year found rising support for gay marriage. And a third of people who have gone from being anti-gay-marriage to pro-gay-marriage said they changed their minds because they know someone who is gay. As for dad Dick Cheney, having a gay daughter was enough to get him to support gay marriage, at least after his final election.
What do you make of the Cheney feud?