Lohan Sued For Causing Emotional Car Chase Distress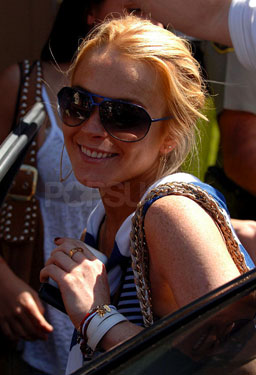 Lindsay Lohan is still holed up at her outdoorsy Utah rehab, Cirque Lodge, but as usual the trouble follows her even when she's laying low. At least this time her trust isn't being publicly betrayed (for once), rather one of the people involved in her DUI car chase is suing LL for emotional damages. Tracie Rice, who was in the car with Lindsay's former assistant and her mother being chased by Lohan, is seeking an unspecified amount of money for, among other things, medical bills to cover emotional distress. She said LL:
"put me through one of the most frightening experiences of my life...What Miss Lohan did that night was extremely dangerous and reprehensible. Someone could easily have been killed or seriously hurt because of her irresponsible decisions that evening."
Yikes! Suing seems a little ridiculous, but I can't say it wouldn't be terrifying to be chased down by an angry LL. Hopefully soon she'll be healthy and ready to face any of her legal consequences so she can put this all behind her.