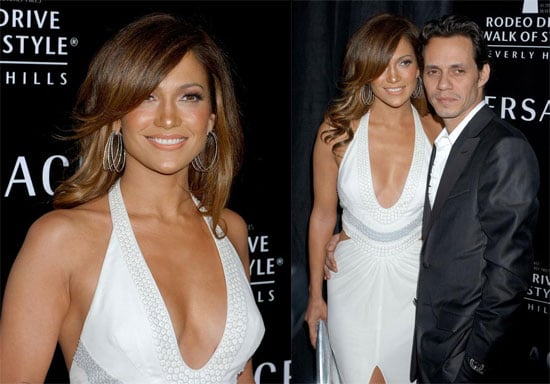 0
Lopez Surrenders to Love
Jennifer and Marc were in an especially affectionate mood at the Rodeo Drive Walk of Style Award party for Donatella Versace last night. It's no wonder - Jennifer says that since Marc came into her life she has finally settled down and found what is important to her. Between getting divorced from second husband Chris Judd and the Bennifer media frenzy, she didn't have much time for herself. But Marc has changed all that. Here's more:
"When I got married a few years ago, I decided that I was going to pull back from all the craziness. What that provided me with was time to think about what was important to me. And as an artist, it's about having space, having time to let things happen inside of you."

The title of the 12-track album, "How a Woman Loves" begs the question - just how does La Lopez love?

"For me, there is no other way than 100 percent. I am one of those people that gives. I will try everything to make it work."

She pauses. " Me entrego - whatever that word is in English - 'surrender' - that is how I love. It's my way."
We weren't really into Marc at the beginning, but they clearly make a good match. Besides, a little less J Lo was better for all of us and thanks to Marc she went into hiding for a bit. Perhaps third time is the charm for Jennifer since so far this marriage seems to be working out well. For more pics of the loving couple, just