Lost is back in full swing in last night's second episode and as usual, we are more confused than ever. While we are totally sucked back in, evidently some of you don't agree because the ratings have dipped since the first two seasons. However, the show still has over 16 million viewers and is the top watched show in its time slot so I'm not too worried.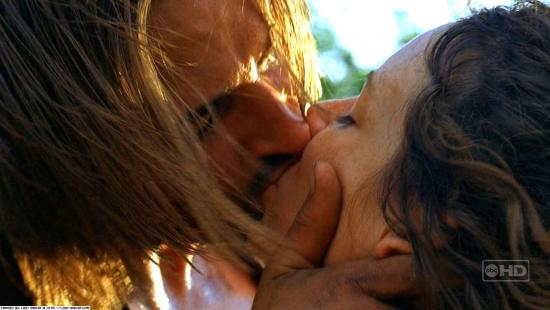 Don't want to spoil it for anyone so to read more and discuss this hot kiss between Kate and Sawyer last night, read more
In last night's episode we finally got another story about Sun and Jin and learned more about their past. Specifically, that Sun isn't such a good girl after all. I mean we already knew she had had an affair, but we also saw a new side of her that can be very deceitful.
Plus, I was totally shocked when she shot one of the Others. That isn't the Sun we know (still I don't hold that against her, she didn't have a choice). Also, did anyone else notice that Jae was holding the pearl necklace that he gave Sun after he fell (or was pushed) out the window to his death? What does that mean?
I would continue to obsess over it but I have to move on to Sawyer and Kate. OK, he's had 69 days to kiss Kate and he chooses the time when they are on a chain gang and being threatened with electrocution to make his move? Oh, well, it was still a great kiss. And it also makes us realize how much Sawyer cares for her to risk his life like that. Of course, he made it seem like he was just kissing her as a strategic maneuver to learn more about the Others.
I really wanted Kate to get together with Jack, but we knew Kate and Sawyer were going to heat up at some point. As for poor Jack, well at least he knows who won the World Series now. The Boston Red Sox winning the World Series as a shocker never gets old. Well, I'm sure next week will be filled with more surprises. That's why I keep watching! And so should you!