Lucy Hale Interview
18 Things You Probably Didn't Know About Lucy Hale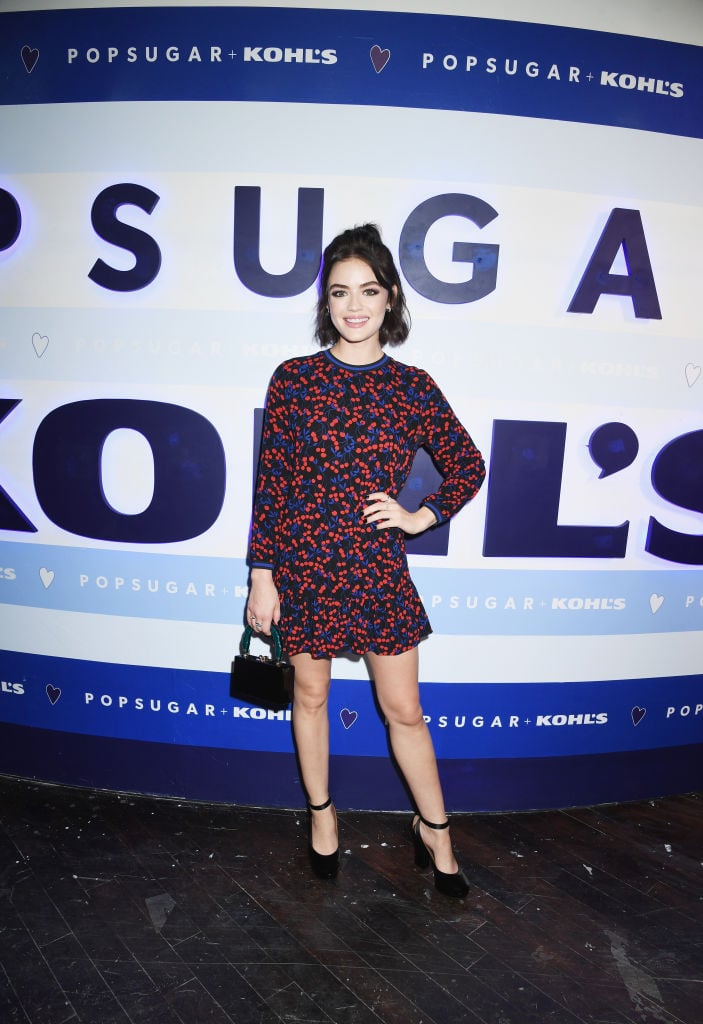 Not only is Lucy Hale a beloved actress (we miss you, Pretty Little Liars!) and an incredible singer, but if you've stopped by her Instagram account for even a second, you've probably also fallen in love with her style and always-incredible beauty looks. So with the launch of the POPSUGAR at Kohl's Collection, Lucy stopped by our New York City pop-up, where she revealed her favorite dress from the collection, what pieces her Pretty Little Liars character Aria would've rocked, and much more.
"I love the cherry print — with this [dress], I could throw on a jean jacket, or a leather jacket, or you could even put on little moto boots if you wanted to dress it up a little bit," Lucy said. As for queen-of-making-bold-fashion-choices Aria Montgomery? She thinks she would've gone straight for the patterns: "She loved her stripes, and she loved her bold patterns. So I feel like she would go for the stripes, but she would do something weird like put a striped cardigan over cherry print. She was all about mixing, and matching, and making her own rules."
Keep reading as Lucy reveals everything from her favorite junk food to her most prized possession!
How Lucy Hale Powers Her Happy
Guilty pleasure?
I have three huge candy drawers, so we'll say candy.
Favorite curse word?
F*ck. [laughter] It's my favorite.
Happy place?
My happy place is in my big, comfy bed with my dog, Elvis.
The one thing you can't leave home without?
One thing I can't leave home without? Ooh, my cell phone? [laughter] That's a bad answer but it's true. We need it.
Favorite junk food?
French fries with ranch dressing.
Favorite workout?
Ooh, SoulCycle.
Favorite splurge?
I bought a Gucci bag today. That was exciting.
Feel-good music?
I love show tunes. So lately it's been the Dear Evan Hanson soundtrack, which is just — I mean, that's a really sad play. But in general, I love show tunes. They make me happy.
Most prized possession?
Actually, not wearing it right now, but it's a ring from my grandmother. It was passed down from my great-grandmother to my grandmother to me.
First thing you do when you wake up?
First thing I do is — I know it's bad, but I check my phone. Check my phone, then wash my face.
Last thing you do before going to bed?
Check my phone? No, I'm just kidding. [laughter] I've been trying to be better about that, actually. Reading puts me to sleep, so read for a little bit.
Jumpsuit or dress?
Jumpsuit.
Sweater or jean jacket?
Jean jacket. I own more jean jackets than anything else in my closet, like 25.
Who was your first celebrity crush?
Zac Hanson.
What are two things on your nightstand?
I have a rose quartz crystal. I mean, I have a bunch of stuff, but rose quartz crystal and Lucas Papaw cream. It's like chapstick. It's the best chapstick in the world.
What's your favorite form of self-care?
Exercise.
What's one thing every woman should do in their 20s?
Go on a road trip alone. It sounds dangerous, but it was the best thing I ever did because you just have a lot of time to think, a lot of time. I drove from LA to Vancouver. I mean, obviously, be safe and have pepper spray, but it's cool. It was liberating.
What's one thing on your current bucket list?
I want to go on a safari.