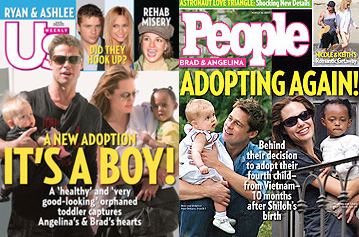 While to many, Brad and Angie's decision to adopt another child may seem a bit rash, it turns out that the couple has been planning this move since shortly after Shiloh's birth last May.
This week, both Us and People are reporting that the family is in the process of adopting a boy between the ages of 3 and 5. Aww, we're sure Maddox was instrumental in and super excited about that decision.
Vietnamese adoption officials assure that the famous couple are getting no special treatment in the process, though rumor has it that Angelina is planning on donating $2 Million to the orphanage when the adoption is complete.
We, on the other hand, just can't wait to meet the newest member of the Jolie-Pitt family!
Just bringing you the news like we love to do. Please try your best to play nice in the comments. Thanks!