Madonna Adoption Part 308
First she did adopt, then she didn't now she has - pretty much. Madonna and Guy Ritchie have been given an interim adoption order for baby David Banda. This allows them temporary custody for 18 months. After that they will go through an evaluation process in the courts of Malawi. Nevertheless, the couple was reunited with the 13 month old in London after he flew in from Johannesburg, escorted by Madonna's entourage. Madonna is so elated about David that she's even thinking of adopting another child. Here's more: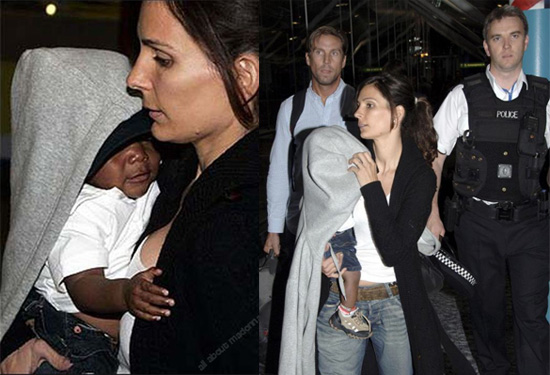 After being allowed to take little David Banda home, the superstar [said]: 'It's so worth it. He's just the best baby ever. Guy and I have never been happier.'

And she has already got her eyes on a three-year-old girl from the same village as David. Describing the moment she saw her, she said: "I looked at this child with questioning dark eyes and the saddest smile. I thought, 'She looks just like me.' I told Guy, 'We must give this child a home, too.'"

Madonna has spoken about the possibility of adoption before. But intriguingly, Hello! magazine claims today that she had to overcome marital problems with Guy before going ahead with her Malawi plans.

"She wanted to wait until a rough patch in her marriage was smoothed over before she brought any more children into the situation," a relative of Madonna's in Michigan told Taraborrelli.
I wonder what Lourdes and Rocco think about David being "the best baby ever." He sure is adorable. Zahara and Maddox may have some competition. As for adopting more kids, stay tuned. More pics so read more