Madonna is back in NYC promoting her new kids film Arthur and the Invisibles. Madonna was late to her appearance on the Today Show yesterday but she made sure to stay long enough to brave the cold and talk to her fans outside. As for the interview with Meredith Vieira, they spoke about David, siding with Rosie against Donald in this lame feud, and she even joked about Britney as well. Here's highlights: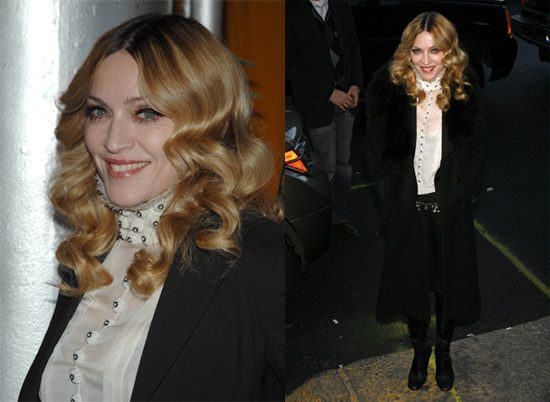 On part of the reason David has been so easy:
"I can get my older daughter to babysit for me," she said. "Both kids are really great with him."
On Rosie:
"Basically, she's a standup comic. I think all standup comics talk about provocative things in their monologues before shows ... I don't know exactly the content of what she said, but I have a feeling that if every standup comic was penalized for saying every politically incorrect thing ... they'd all be hung in the public square."
She added, "I think people are giving Rosie a hard time. I wish they'd stop. I don't think it's fair."
On Britney:
"We shared a kiss, and I never saw her again." She also joked, "That's how it is, I guess. I wouldn't say we're the best of friends. We just drifted apart. It was nothing intentional."
We wish Madonna would give Britney some advice but I guess she has a lot on her plate with her new addition to her family and her new movie. Btw, I loved Madonna's hair. Much better than the Valerie Cherish do. More pics of Madonna at the screening of Arthur and the Invisibles so read more