Madonna, Britney, and JT Entertain Stadium of Stars
The stage wasn't the only place with big-name appearances at Madonna's LA concert last night. Stars like Jennifer Lopez, Isla Fisher, Kate Moss, and Heidi Klum all made it out to Dodger Stadium see the energetic live performance. The trek through traffic wasn't for nothing — Britney looked fantastic during her brief appearance on stage, and Justin performed "4 Minutes" complete with some very sexy dance moves. It must have been quite a moment to see Madonna kiss Britney's hand and exclaim to the audience "She's not your b*tch" before Britney chimed in "It's Britney, b*tch," which is usually just on video. Ryan Seacrest, who first revealed the news of the exciting guest appearances, was of course among the spectators at last night's memorable show.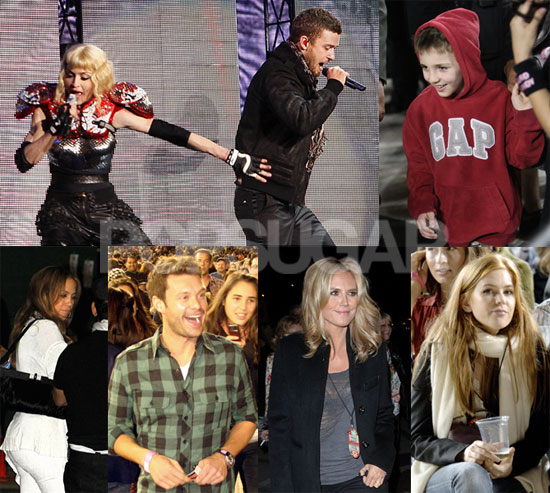 To see more photos from the show including Hayden Panettiere in a very risque shirt, Dennis Quaid, Lucy Liu, Amanda Bynes, and more, just read more.
Images include: Heidi Klum, Kate Moss, Lucy Liu, Hayden Panettiere, Dennis Quaid, Kimberly Buffington, Amanda Bynes, Jennifer Lopez, Ryan Seacrest, Lisa Rinna, Isla Fisher, Rocco Ritchie
Splash News Online, X17 Online, Film Magic, Source and Source