We all know very well that Madonna's journey in adopting David was not easy to say the least. She's blamed the difficulty in adopting David on the media, and even said many people were very racist about her adoption. Now she is revealing the whole process was so difficult she almost gave up. Here's more: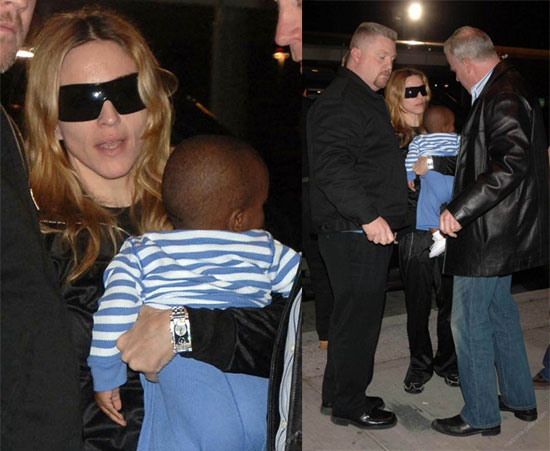 Madonna says her efforts to adopt 13-month-old David Banda in Malawi were so difficult, both logistically and emotionally, that she repeatedly considered giving up. "Every day I thought, 'OK, forget it. We'll find a family here to look after him,' " she tells Time magazine in a new interview. "I just (kept) thinking, 'Oh god, I don't want to get too attached, because what if it doesn't happen?' "

The singer lashes out at the media throughout the interview. "There's a lot of Brits – reporters on the street – who've said, 'Why don't you adopt a kid from Britain?' Or, 'Why did you adopt a black child?' So a lot of people's hangups and 'isms' are sort of mixed into this, too. It's just kind of a cocktail for disaster in terms of media perception."

She continues, "It was one f–ing thing after the next, everywhere we went. So the idea that people think I got a shortcut or an easy ride is absolutely ludicrous. I have never worked so hard for anything in my life, and I've never been given such a hard time. And my celebrity has worked against me in every way." If you're a famous person who's trying to make a difference in the world, she adds, "you'd better be prepared to find yourself in the headquarters of hell."
We're glad Madonna decided to fight through and adopt little David. More pics of the two so just read more