Madonna On The Cover Of Vanity Fair Green Issue
Madonna's Not Like a Virgin Anymore
Madonna is loving her racy black outfits for photoshoots these days, and her cover for the green issue of Vanity Fair went right along with this trend. We're sure she had plenty to say about her new album and doing all she can for the environment, but yesterday morning she also talked about JT, Britney, and why she'll never sing "Like a Virgin" again. Here are highlights from an interview with New York's Z100-FM: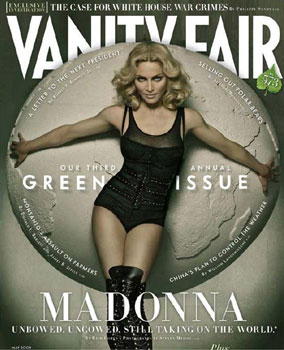 On performing some of her classic hits: "I'm not sure I can sing 'Holiday' or 'Like A Virgin' ever again. I just can't – unless somebody paid me like $30 million or something. [Like if] some Russian guy wants me to come to the wedding he's going to have to a 17-year-old, you know it."
On Britney's Blackout: "I actually love Britney Spears's new album ... I usually work out to her record. I do a combination of pilates and dance aerobics."
On what her chances would be on American Idol: "I went to a lot of auditions for musical theater and conventional mainstream things – and I always got cut immediately. So I'm pretty sure the same thing would happen to me."
To see what Madonna had to say about Justin Timberlake, just read more
On giving JT a booster shot: "First of all, I've seen enough butt ... The reason I gave him a B-12 [shot] is because we only had a certain amount of days in the studio and I didn't want him to use that as a lame-ass excuse not to come to work. Okay? It's got nothing to do with butt. I promise you. Listen, I don't need to give him a shot to see his butt. Duh."
Sounds like Madonna hasn't lost any of her confidence or spunk over the years. As for American Idol, we may never see her grace their stage, but maybe the top contestants will be performing some of her early hits she's put such a high price on. I'd listen to "Holiday" on repeat any day of the week!