Over time Madonna has been known for her style. She always looks so put together whether it's for a performance, a night on the town with her husband, or even a trip to the gym. She just has an incredible sense of style. Yes, I know she is wearing fur in this picture, but still. Now you too can dress like Madonna. H&M designed an off-stage wardrobe for Madonna and her backup dancers for her world tour so we all know she's a big fan of the Swedish brand. Looks like they want to continue the relationship since they are launching a new line with Madge. Here's more: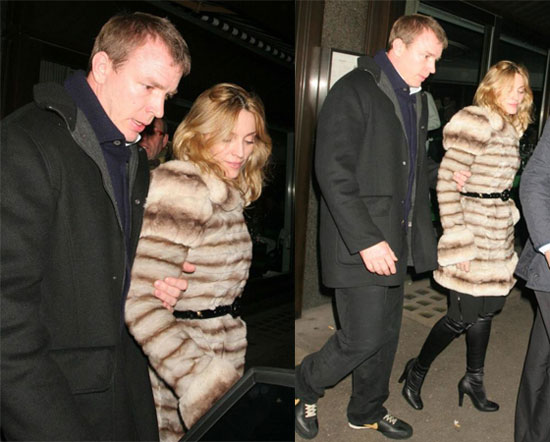 "The 'M by Madonna' fashion line will reflect Madonna's timeless, unique and always glamorous style," H&M said.

"Madonna has an impressive feel for fashion and trends. She was extraordinarily style conscious, passionate and was involved in even the smallest details of every design," it added.

Analysts said the tie-up would be positive for H&M sales.

"Naturally, it is positive that they are continuing to work with Madonna," said Stefan Stjernholm, analyst at Swedbank.

"There is going to be lots of interest for Madonna's collection, but it will also contribute to more interest in H&M in general. Their sales ought definitely to be influenced."

A second analyst said Madonna would give H&M "very welcome publicity and help sales."
Want to check out some of the fabulous looks H&M is planning to produce for the M line? We have a few of the fab looks along with Madonna and Guy out in London so read more