Madonna's H&M tracksuits are evidently not so hot. Despite living in hers and being plastered all over buildings, supposedly no one is buying them and they've just been sitting on the racks ever since they came out three months ago. The company is so desperate to get rid of them they are even giving them away at the H&M MySpace page. Radar reports: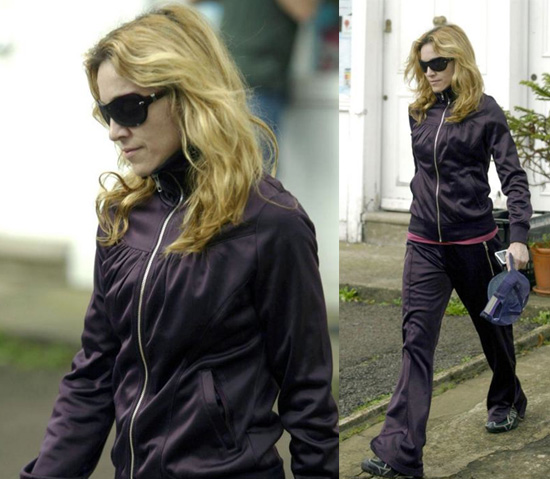 Compared to the mad rush and instant sellout of Stella McCartney's capsule collection for H&M last year, her BFF Madge's piece is a dud. H&M says that's not a fair comparison. Stella designed a whole 30- to 50-piece line herself. Madonna's contribution "is just a tracksuit that we had designed," H&M's U.S. spokesperson said. That's a different message from the line that went out here, there and everywhere at launch time, stating the pop star "designed a trendy tracksuit" and would be "designing limited edition sportswear" for the stores.

Asked specifically about the performance of the piece, which Ms. Ciccone and crew agreed to wear backstage on tour, the H&M spokesperson said it was doing "very well," but admitted that wasn't based on any numbers—which the company doesn't share, anyway—but instead on company expectations. Meanwhile, H&M doesn't have any plans to work with Madge in the future.
We would think H&M would be having a hard time keeping Madge's sweats in stock. They look super cute to us. More pics of Madonna leaving the gym in one of her not so popular designs so read more