Madonna is taking a trip to Michigan to visit her father Tony Ciccone to introduce him to his new grandson, David. Unfortunately, the trip is somewhat bittersweet. Tony currently is undergoing chemo for colon cancer and so the meeting will take place at the hospital where he is being treated. Here's more: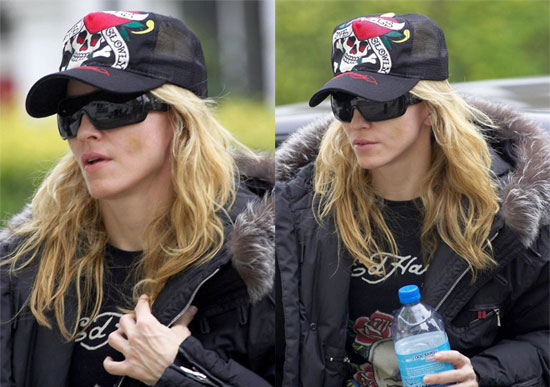 The family pal said: "Madonna is keen to introduce David to his grandad — although the circumstances are less than ideal. He has been diagnosed with colon cancer and is undergoing chemotherapy. But at the moment the prognosis from the doctors is as good as can be expected. It is just a shame that the family are going through this secret sadness when it should be a joyful time with the new baby. And Madonna has been getting a lot of criticism for the baby adoption."

For many years Madonna, who had a strict upbringing, rebelled against her father. But during the Re-Invention Tour they became the closest they had been for years. She now credits him with being a major force in her tough personality.
She's looking pretty tough in these pictures, especially with that bruise on her face. What's the deal with that? I hope she's OK. More pics so read more