Madonna Opens Girls School in Malawi and Defends Britney Spears
Madonna Opens Girls School and Defends Britney
Start Slideshow
ADVERTISEMENT ()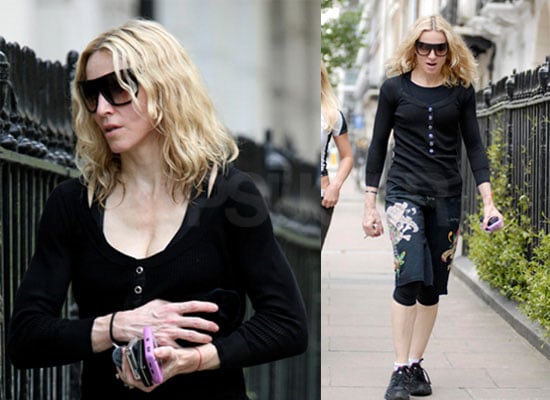 0
Madonna Opens Girls School and Defends Britney
Madonna stuck with her favorite all black outfit, devices in hand on her way to the gym, but today is not just like any other day. The charitable pop star announced plans to build a multi-million-dollar girls' school in Malawi this year. Plus, David's adoption is being finalized tomorrow. Amidst all of this, Madonna took time out to chat about being a working mom and again in defense of Britney Spears. Here are some highlights:
On Britney: "I think a lot of it has to do with the fact that she was never allowed to have a childhood. She didn't get to grow up and make mistakes privately and try things out and just be a kid and be innocent. She's been watched, judged and been under a microscope since she's been a teenager. It's hard to evolve that way."
On her kids giving her a hard time for working so much: "'When are you coming home?' 'Why are you always working?' 'Why can't you just be like a normal mom?' I just remind them about all the things that they have, and that if I didn't do what I did they wouldn't have those things."
On her kids' thoughts on her fame: "They come to the rehearsals. But they're sort of over it. They like to skateboard around."
We think Madonna hit the nail on the head when it comes to Britney and despite being one of the biggest stars ever still keeps things down to earth with her family.