Madonna's Surprise at the British Comedy Awards
Madonna's Surprise at the British Comedy Awards
Madonna made a surprise appearance at the British Comedy Awards last night at London's Television Centre. She was on hand to present an award to Sacha Baron Cohen for Borat (yes that is him as a normal person in the photo on the right with his fiancee Isla), but that's not what created the buzz. Jonathan Ross who was hosting the event said something super inappropriate about her new baby David. Here's more: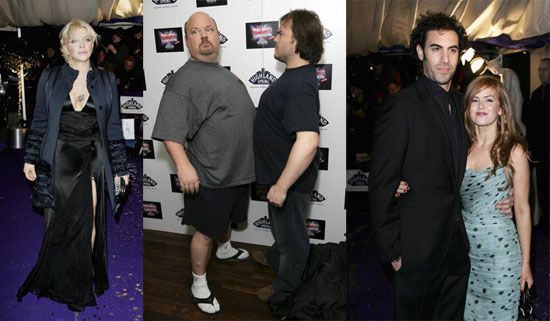 Shortly before she gave the award to Ali G impersonator Cohen, Ross said to her: "Congratulations on your little lovely black baby, David. Are you stopping there, or getting more? When I went to Africa all I got was a wallet."

To which a less-than-amused Madonna replied: "You might go home with a black eye."

The US superstar, who is married to British film director Guy Ritchie, immediately stopped smiling - and walked out before the after-party had even begun.
So innappropriate Jonathan! It is pretty cool to see Sacha out of character with his cute girl Isla. To watch the clip of Madonna on stage, and for more of Sacha Baron Cohen, Isla Fisher, Jack Black, Paul Bettany and Courtney Love just read more