Maggie Gyllenhaal Doesn't Like Fashion Week
Maggie Gyllenhaal on Fashion Week: "I Don't Love It"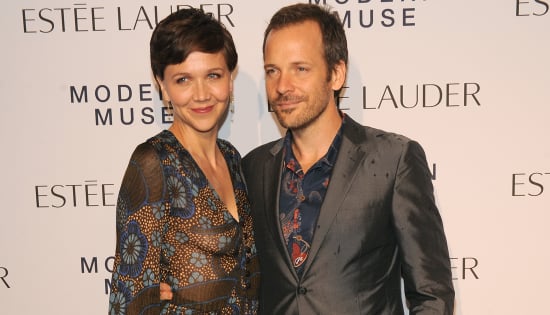 Not everyone is a fan of New York Fashion Week! Estée Lauder's Modern Muse party was thrown at the tail end of the stylish extravaganza in NYC, and a vintage Yves Saint Laurent-clad Maggie Gyllenhaal was among the revelers. But don't expect to see her in a front row soon. When asked what her favorite part of Fashion Week is, she confessed, "I don't love it."
Maggie will check out an occasional "tiny party" for emerging designers, including her pal Ryan Roche. There's an added consideration for Maggie — make that two, actually — her kids, 6-year-old Ramona and 1-year-old Gloria. Maggie said, "I always feel a little bad actually at Fashion Week because it's right when my kids are going back to school. So I'm always like, 'I'm gonna go out!' I always feel a little torn. But I guess I like that. Just being a little bad!"
Maggie and her husband, Peter Sarsgaard, nonetheless treated themselves to Estée Lauder's event at the Guggenheim Museum. The word of the evening was "muse" since the beauty brand just launched a new fragrance, Modern Muse, which is being promoted with ads featuring the aptly named model Arizona Muse. Both Peter and Maggie cited their own muses on the black carpet. She's inspired by actresses Anne Bancroft and Madeline Kahn, while Peter dresses with jazz musician Ornette Coleman in mind.
Peter sweetly confessed, though, that his real muse is his wife. Peter said of Maggie, who he's been with for 10 years and married to for four, "We've performed together a number of times, and we've both been more interested in acting on stage together than on film." He added, "But of course, it's not just acting . . . It's picking out the curtains. If your life is your art in some way, then every part of it is essential. It's a fully lived thing."