Malala Yousafzai on The Daily Show
16-Year-Old Taliban Survivor Malala Yousafzai Is Simply Amazing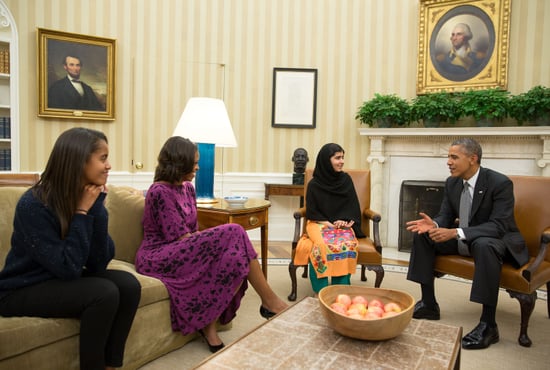 It was a big week for 16-year-old Malala Yousafzai. The young Pakistani activist, who was shot in the head by Taliban members last year for simply seeking and advocating for education, met with President Barack Obama, First Lady Michelle Obama, and their 15-year-old daughter, Malia, in the Oval Office on Friday. There, Malala, who was nominated for a Nobel Peace Prize, thanked the president for his support of girls' education, while also asking him to stop drone attacks in Pakistan. After her meeting, she release a statement that read: "I thanked President Obama for the United States' work in supporting education in Pakistan and Afghanistan and for Syrian refugees. I also expressed my concerns that drone attacks are fueling terrorism. Innocent victims are killed in these acts, and they lead to resentment among the Pakistani people. If we refocus efforts on education, it will make a big impact."
Malala became the youngest person to be nominated for a Nobel Peace Prize, although she lost out Friday to a chemical weapons watchdog group. But clearly she has succeeded in getting her message out either way. And on Thursday, Malala won the European Parliament's Sakharov Prize For Freedom of Thought, beating out NSA whistle-blower Edward Snowden. One person who likely thinks she deserves all the praise she's getting? Jon Stewart. Malala stopped by The Daily Show earlier this week, and Jon shared the awe and admiration for Malala many around the world also feel.
On the show, Malala talked about her new book: I Am Malala: The Girl Who Stood Up For Education and Was Shot by the Taliban. "They do not want women to get education because then women would become more powerful," she explained. Jon, clearly impressed by Malala's eloquence, courage, and wisdom beyond her years, asked Malala if he could adopt her. At the end of the interview, Jon called her "one of the finest examples of the human spirit," and I think we can all agree with that.