Mandy Back on Stage Dan Undah!
Start Slideshow
ADVERTISEMENT ()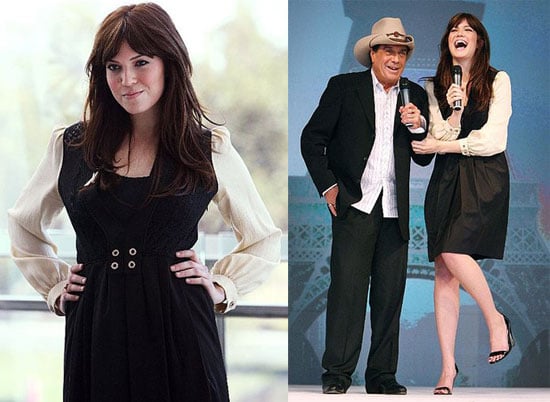 0
Mandy Back on Stage Dan Undah!
Mandy Moore struck a pose in a cute black dress at the Beautiful Girls Ladies Fashion lunch in Melbourne today. Looks like she had fun on stage with Molly Meldrum, but the popstar is mainly in Australia to tour with Ben Lee and Kelly Clarkson. It's been a while since Mandy performed and she blogged on her MySpace page about being nervous but loving the fabulous country. She said,
Greetings from Dan Undah! Once again, I have to say this country
blows me away in EVERY way. We just got to Adelaide after spending
three full days in Perth. Amazing. We played two shows with Ben Lee
opening for him before he took the stage in front of a 65-piece
orchestra. Words can't explain how brilliant he is and how genius the
arrangements were of his songs. He had the crowds in the palm of his
hands.
It was a bit awkward to step on stage here for the first time here in
years - especially with my own music and (and no dancers that I'm sure
a bulk of the audience might have been expecting!) We are touring
barebones-style with just Loren on piano and Chaves on guitar. It's
actually really great sometimes to not have the pressure of the full
band but I can't wait to get back down here with the set-up we toured
with in the States.
To see what else Mandy had to say just
For the next week, we'll be doing a short intimate set opening for
Kelly Clarkson down here and then off to Manila to play one show there
on the 12th.

Happy to come home after this trip and really dig into some film
projects i've had my eyes on now that everything is back up in
motion. I am so ready to get back to work in terms of writing my next
record, recording some demos and hopefully locking in a compelling and
challenging film project.

Hope you are all well and enjoying life. I'll post some pics this
week from down here. Hoping to see you all soon ...

xx
MM
We love Mandy for always gushing about all her different projects and collaborators. Plus even when she's got all the boys' eyes on her she manages to stay out of trouble.