March on Washington Anniversary Speeches
The Quotes You Need to Read From Today's MLK Commemoration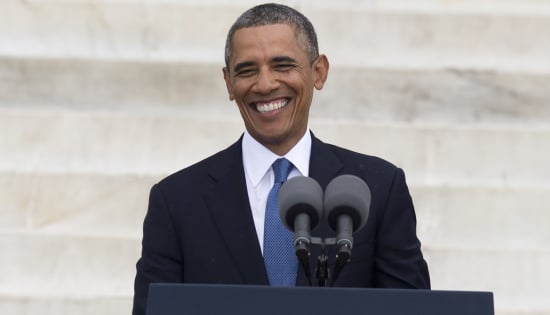 Today President Obama, former President Bill Clinton, Jamie Foxx, and Oprah Winfrey spoke from the steps of the Lincoln Memorial to honor the 50th anniversary of the March on Washington. The commemoration event celebrated the life and work of civil rights leaders like Martin Luther King Jr., and all four speakers addressed the progress that's been made since 1963, plus the work that still remains. Keep reading for the most inspiring quotes from the event, plus video highlights from each speech.
President Obama
On MLK's legacy:
"His words belong to the ages, possessing a power and prophecy unmatched in our time."
On the bottom line:
"Change does not come from Washington, but to Washington."
On the sacrifice of civil rights leaders:
"They did not die in vain. Their victory was great, but we would dishonor those heroes as well to suggest that the work of this nation is somehow complete."
On how we can move forward:
"The arc of the moral universe may bend toward justice, but it doesn't bend on its own."
On the economic goals of the march:
"The men and women who gathered 50 years ago were not there in search of some abstract idea. They were there seeking jobs as well as justice. Not just the absence of oppression, but the presence of economic opportunity."
On moving past a troubled history:
"The March on Washington teaches us that we are not trapped by the mistakes of history, that we are masters of our fate."
On the power of this generation:
"The young are unconstrained by habits of fear, unconstrained by the conventions of what is. They dare to dream differently, to imagine something better, and I am convinced that same imagination — that same hunger of purpose — stirs in this generation."
Jamie Foxx
On who today's civil rights leaders should be:
"What we need to do now is the young folks pick it up now, so that when we're 87 years old, talking to the young folks, we can say it was me, Will Smith, Jay Z, Kanye, Alicia Keys, Kerry Washington, the list goes on and on."
Oprah Winfrey
On Martin Luther King Jr.:
"He's the one who reminded us that we will never walk alone. He was, after all, a drum major for justice."
On what we can do now:
"As the bells toll today, let us reflect on the bravery, let us reflect on the sacrifice, of those who stood up for freedom, who stood up for us, whose shoulders we now stand on . . . And as the bells toll today at 3, let us ask ourselves: how will the dream live on in me, in you, in all of us?"
Bill Clinton
On how he was affected by MLK:
"This march, and that speech, changed America. They opened minds, they melted hearts, and they moved millions, including a 17-year-old boy watching alone in his home in Arkansas."
On the legacy of civil rights leaders:
"What a debt we owe to those people who came here 50 years ago."
Watch highlights from all four speeches below: