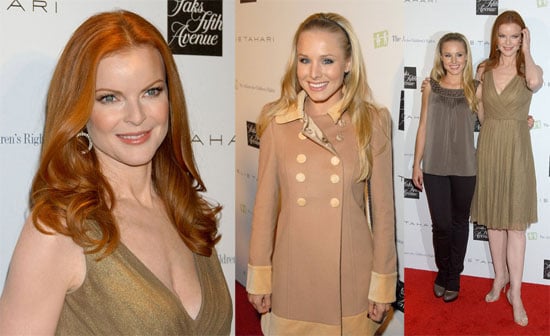 0
Marcia and Kristen Show Off Their Smiles
Marcia Cross and Kristen Bell were seriously glowing at the Elie Tahari Boutique opening in Beverly Hills last night. Marcia has been super busy between working on Desperate Housewives and spending time with her cute twins, but she looks radiant — wonder what her secret is. As for Kristen in her adorable fall look, we can probably guess what her big smile is about. She'll be making her official debut on Heroes next week, and it already looks like her character will be stirring up some trouble. Kristen recently talked about how she fits right in with her new costars, saying, "They are just a really nice group of normal people, and I love them. I couldn't have imagined a warmer welcome." Fun times!
Lots more pics including Big Shots' Amy Sloan and Jessica Collins so
Images include Kristen Bell, Amy Sloan, Marcia Cross, Jessica Collins, Lisa Love.