I had a feeling this classy girl would get married in style. Marcia got married tonight in a traditional wedding at a church with a celebration following at the Ritz Carlton in Pasadena. Hopefully we'll get some lovely pictures soon. US Weekly reports: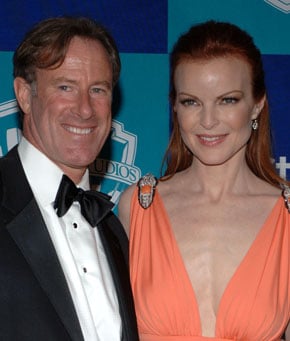 Desperate Housewives' Marcia Cross, 44, married her fiancé of 10 months, stockbroker Tom Mahoney, 48, on Saturday June 24, before guests such as Eva Longoria, Felicity Huffman and William H. Macy. The wedding took place at the Church of Our Savior Episcopal Parish in San Gabriel, California.

The reception was held in two ballrooms at The Ritz Carlton in Pasadena, California. Cocktails were offered in an all-white ballroom converted into a lounge with white curtains covering the walls and white couches and furniture for cocktails before the seated dinner. Dinner was served in a second ballroom decorated in bright colors.

On Friday, the couple hosted their rehearsal dinner on an outdoor patio at Bistro 45 in Pasadena, California. The following day Cross spent the hours before the ceremony frolicking in the hotel pool with her seven flower girls. The happy couple, who met in a flower shop in Winter 2005, will spend their wedding night in The Ritz Carlton's two-story Tournament of Roses Suite. It is the first marriage for both.