Marcia's Twin Miracles
Marcia's Twin Miracles
Marcia is pregnant with twins and showed off her quickly growing belly yesterday at the Modern Mom Mingle which benefits the Children's Health Environmental Coalition. The 44-year-old newlywed says she feels so blessed to be pregnant for the first time with twins at her age. She spoke a bit about her pregnancy experiences so far. Here's more: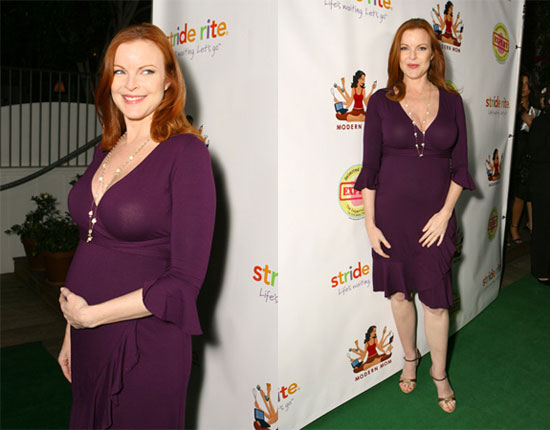 And there are some things she's still dealing with. "I was really freaked out and I was terrified – what if I can't be a good mother to two and somebody would always be feeling left out?" she tells Extra.

Unlike her Housewives character, Bree Van de Kamp, Cross says she's "domestically challenged with a very big heart."

She also clears up any rumors of a problem pregnancy – "I haven't had a thing," she says, "I am absolutely, 100 percent fine" – but admits, "It's hard to carry around all that weight. I wake up feeling like me and then I step on the ground and I'm like, whose body is that walking to the bathroom?"

As for this week's news that her costar, Eva Longoria, is engaged to Tony Parker, Cross says: "She showed me the ring and I screamed. I think I scared them. Tony was there, and it was just fantastic!"
Ahh... Marcia is so sweet. For more pics of her at the Skybar in LA just read more