Margo Martindale Emmy Press Room Interview
Margo Martindale Is "On Cloud Nine" in the Press Room After Winning an Emmy For Justified
Margo Martindale was glowing after she accepted her best supporting actress Emmy for Justified, and she stopped by the press room to say how honored she was to have won. She couldn't resist joking about her character's unfortunate end, though, or keeping it real by saying that she was lying when she said that being nominated was enough.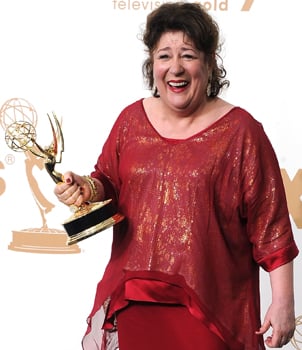 Margo Martindale, on winning after being killed off of Justified: "I'm thrilled, I'm on

cloud nine

. I'm out of my body. It's just been a joyous year, it's a joyous, joyous ride. I loved the work, loved working with these actors, I loved it. It was a perfect fit for me. I'm just grateful to have had that job. Unfortunately, it's in the past. They killed me off. Maybe they'll regret it."
On accepting her Emmy: "I couldn't believe it, and I couldn't believe how enormous that audience is. I wanted to take it in, I actually wanted to be there in that moment. I took my breath before I started to speak. Overwhelming."
On winning at 60: "I am deeply grateful to be recognized. It's an honor."
On being submitted for a nomination by Justified's producers: "That right there was enough. Not really, but you know what I mean. I mean, that's a lie."
On her character's death: "I thought it was only going to be four episodes and then by the time we had finished the first or second episode, they told me I was going to get 10 episodes. They seemed so happy with what I was doing, I thought I would live! Silly me. It was a perfect and poetic ending for that character, however."