Marion Cotillard Rust and Bone Interview
Marion Cotillard Talks Rust and Bone and Loving Her Baby Son Marcel
Marion Cotillard is at Cannes this week chatting up her latest movie Rust and Bone. She wore Dior last night for the red carpet premiere of the film, and posed alongside costars Matthias Schoenaerts, young actor Armand Verdure, and director Jacques Audiard. The picture is ready for audiences after Marion and Matthias worked on it together last Fall in the South of France. Marion plays Stéphanie in the film, a killer-whale trainer whose life is changed after a tragic accident. So far, the Rust and Bone reviews are positive.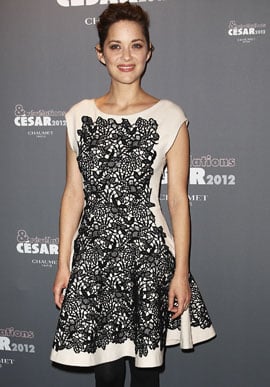 We caught up with the actress today at a press event this morning. Marion chatted about getting into the mindset to play Stéphanie, as well as about her career. She also touched on how life is different now that she's a mom to 1-year-old Marcel, and whether or not she consults with her husband, director and actor Guillaume Canet, before making a big career decision. Marion also gushed about her Inception and Dark Knight director Christopher Nolan. She said:
On motherhood changing her approach to work: "When I am in the character, it's completely the character. But usually when I work, I create this environment — especially that most of the time I am out of Paris and France — so I can create a new apartment in a new house or a hotel room. I can create a special environment that I need. I will entirely go back to myself when the movie is finished . . . [but during production] someone is sharing my body and is there most of the time. With my son it's impossible to take someone else home . . . There is this human being that I love more than anything, and who needs me."
On consulting with Guillaume before accepting a role: "It's usually all for myself. If I need advice, I will obviously ask the people I love and the people I trust. Usually, I create my own little world and deal with it."
On it being easier to act in French: "To play in French is definitely less demanding than playing in English with Polish accent or Italian or even French accent. Simply because I don't have to think about how I say the words. I don't have to think about, 'Does it sound French?' Because it will obviously sound French! But I love working in English. It's very, very interesting."
On being tough like her character, Stéphanie: "I definitely have strength . . . it would be a long conversation on how strength is manifested in yourself, but there's very few things that — actually I don't think there's one thing I could think about that could put me down."
On working with Christopher Nolan: "I really love this guy. He's so, so smart. He is such an amazing director and author. It's very rare to work with a director in Hollywood, especially on big, big movies like Batman, who not only directs the movie but writes the script. It's very, very unusual . . . It's massive, but it's also very, very intimate. I love this about him. He loves real things, real connections, real feelings."
On using her celebrity to spread awareness about the environment: "If you manage to spread what you think — because you think what you think is right — it's a beautiful thing to meet people who are not aware. Because there are still people who are not aware of what we are going through and what the world is going through. It's a good thing to share, and to change, step by step."