Marriage Survey
Tell Us "What Is Your Love End Game?" and Enter to Win the Ultimate Valentine's Date Package!
With Valentine's Day on the horizon, love is in the air. But while February 14 always conjures up images of roses and chocolate, new research suggests that modern relationships are less traditional. Fewer Americans are getting married and those who do are waiting longer. For Valentine's Day, we partnered with AskMen.com and want to ask our readers if and how their ideas of love and goals for their relationships are changing. And we want to see if the attitudes of men and women about their "love end game" are evolving in the same or different ways. So whether your a man or woman, single or taken, fill out our short survey about love and marriage. You'll be entered to win the ultimate Valentine's date package from Limos.com complete with luxury car service, dinner for two, and flowers! Click here for official rules.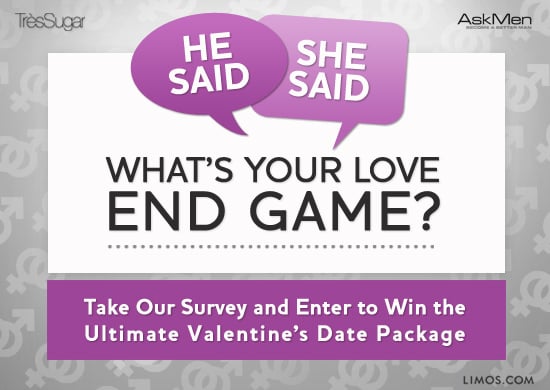 Take Our Survey Now!