Mary-Kate and ERW Kick Off Tribeca With Whatever Works
Woody Allen's latest film Whatever Works kicked off the Tribeca Film Festival last night. The film stars Evan Rachel Wood — who just joined the cast of True Blood — and Larry David as husband and wife, which is a bit of an unlikely duo. Mary-Kate Olsen wasn't the one making out with an older man on the big screen this time, but she was still out to support the festival and film. Debra Messing seemed ready to celebrate her new NBC pilot decked out in red, while cute Bradley Cooper kept it scruffy. The Tribeca Film Festival is officially underway with screenings, parties and red carpets all over until next weekend.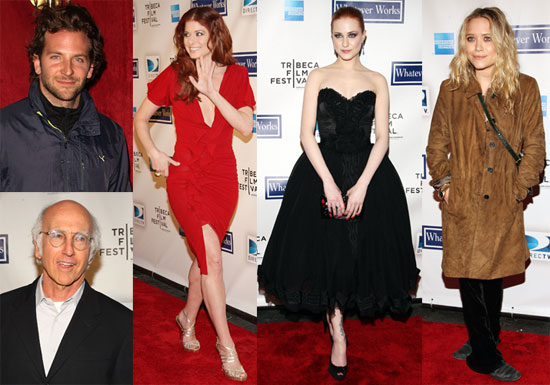 To see more from the premiere including Cheryl Hines, Harvey Keitel, Robert de Niro and others just read more.
Images include: Patricia Clarkson, Woody Allen, Soon-Yi Previn, Evan Rachel Wood, Debra Messing, Bradley Cooper, Mary-Kate Olsen, Cheryl Hines, Harvey Keitel, Robert de Niro, Larry David, Melissa Leo, Uma Thurman, Henry Cavill