Matt Damon in Esquire August 2013
Matt Damon Tells Esquire Why Brad Pitt Envies Him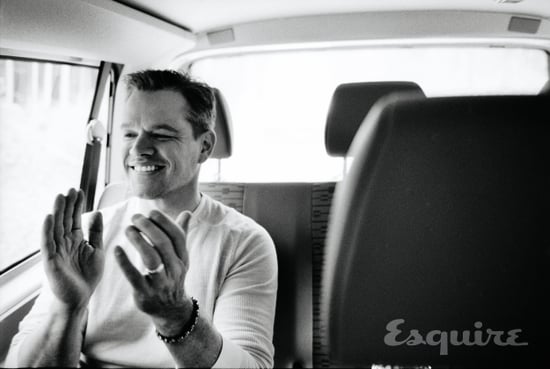 Matt Damon posed for the cover of Esquire's August issue, which is on newsstands now. He's been busy with work after wrapping up filming The Monuments Men with his good friend George Clooney and gearing up for a big press tour for Elysium, which will be released in August. Despite staying busy with his career, Matt has always remained a dedicated family man to his wife, Luciana, and their four girls. As a testament, Matt and Luciana celebrated their more than seven years of marriage with a star-studded vow renewal in St. Lucia back in April. Inside the issue, Matt touches on why he was lucky to have married a "civilian" and also touches on why Brad Pitt may envy him as a celebrity. Here is more from Matt in Esquire:
On his mother's opinion of child actors: "My mother thought it was child abuse. She literally did. She was a professor who specialized in early childhood development, and she thought putting a child on stage or in a commercial or in a movie was child abuse. So when I did Elysium with Jodie Foster, I asked her. I mean, she's basically been acting since she was born. I figured, if anyone's going to know, it should be her, right? So I asked her. And she sort of smiled and said, 'It depends on the child.'"
On Brad Pitt: "If you can control the celebrity side of celebrity, then it's worth it. I look at Brad — and I have for years — and when I'm with him, I see the intensity of that other side of it. I remember telling him that I walk my kids to school, and his face just fell. He was very kind, but he was like, 'You bastard.' Because he should be able to do that, too. And he can't."
On celebrity and marriage: "I got lucky. I fell in love with a civilian. Not an actress and not a famous actress at that. Because then the attention doesn't double — it grows exponentially. Because then, suddenly everybody wants to be in your bedroom. But I don't really give them anything. If I'm not jumping up and down on a bar or lighting something on fire or cheating on my wife, there's not really any story to tell. They can try to stake me out, but they're always going to get the same story — middle-aged married guy with four kids. So as long as that narrative doesn't change too much, there's no appetite for it."
Keep reading for more pics of Matt in Esquire!