Matt Damon in January 2013 Playboy Magazine
Matt Damon Talks His First Nude Scene and the Garner-Afflecks in Playboy
Matt Damon gives a candid interview in the upcoming January issue of Playboy. The actor is currently starring in Promised Land, which he cowrote and costars in with John Krasinski, and will play against type in the upcoming HBO movie Behind the Candelabra as Liberace's lover. Matt, who sat down with a writer for the magazine in NYC, also opened up about life with his family and their good friends and new LA neighbors, the Garner-Afflecks. Here are some highlights: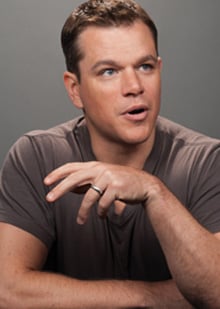 On whether living near the Garner-Afflecks attracts attention: "We lived in the same neighborhood this Summer and had no problems at all. Granted, we didn't look for attention by parading our kids down the Third Street Promenade in Santa Monica. . . . Ben and Jen are both famous, and people are interested in her and how she parents, which makes them a target. If we had gotten it like that, I wouldn't have gone to Los Angeles."
On his first nude scene: "Well, normally I'd say no to nudity, but I just did a lot of it playing the long-term partner of Liberace, Scott Thorson, in Behind the Candelabra. I mean, it's tastefully done. Steven Soderbergh directed it, and Michael Douglas plays Liberace. But this movie's not going to be for everyone. . . . There's stuff I think will make people uncomfortable. Great. It's HBO — they can change the channel."
On kissing Michael: "We both have a lot of gay friends, and we were not going to screw this up or bullsh*t it. It wasn't the most natural thing in the world to do, though. Like, for one scene, I had to come out of a pool, go over to Michael, straddle him on a chaise lounge and start kissing him. . . . We drew it up like a football plan. I remember asking Heath Ledger after Brokeback Mountain, 'How'd you do that scene with Jake?' — meaning the scene where they start ferociously kissing. He said, 'Well, mate, I drank a half case of beer in my trailer.'"
On his wife, Luciana: "This is the first relationship I've had that wasn't like work to be in. . . . There's always stuff you can work on, of course, but being married and having kids, for me, there's a lot of romance, but it's a much bigger endeavor with a lot of nuts-and-bolts problem-solving you have to do together. It's like building a company. . . . I wish I were better because my wife deserves somebody who surprises her with a gift or flowers or some wonderful idea. I've never been good at that, and she's really good at it, which makes me feel even more like sh*t."