Matt LeBlanc Golden Globes Press Room Quotes
Matt LeBlanc Says Finally Winning Golden Globe "Feels Pretty Good!"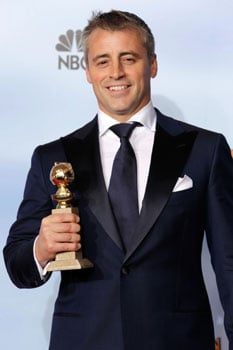 Matt LeBlanc finally took home a Golden Globe tonight for his work in Episodes, after being nominated three times for playing Joey on Friends all those years ago. In the new series, Matt plays a version of himself and they're currently in the middle of shooting season two in London. When asked about a possible Friends movie, Matt said he doesn't think that is a good idea at all and he's just happy for the writing on his new series. Check it out:
On playing a version of himself: When we started to do the show, my initial reaction was, "What do you mean play myself? I'm not really comfortable with this. We're not doing a documentary." I don't mind being the brunt of a joke if it's a good joke. So far it's good jokes.
On real Matt Leblanc vs. Episodes Matt LeBlanc: Hopefully the Matt LeBlanc in real life is less damaged. I like to think I have less emotional problems than he does. Hopefully. My job is to make people laugh. If that's happening than I've done my job. It doesn't really matter if I'm being myself or being the character.
On finally winning, but not for Friends: This is my fourth nomination, I was nominated for the last three years of Friends. When you don't win you always says it's nice to be nominated, but I gotta say this feels pretty good. Friends was an awesome experience and this is a similar experience. I can't say enough about the writing on the show. I learned my lesson when I did the spin-off, it wasn't the same. Now I have good writing again and it makes all the difference in the world.
On knowing what is funny: How do I know what's funny? When you read the script if you laugh, chances are it's funny. If you're rehearsing, if the grips laugh it's probably funny. It nobody's laughing, it's probably not funny. It's a pretty simple equation.