Matt And Luciana Damon Expecting Fourth Child 2010-04-27 11:17:53
Matt and Luciana Damon Are Expecting Again!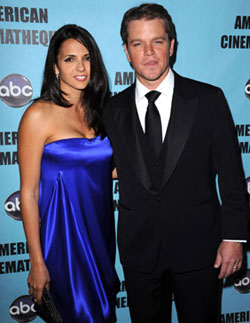 Congratulations are in order for the Damons — Matt's wife, Luciana, is pregnant again! Their new addition will join three older sisters, 11-year-old Alexia, 3-year-old Isabella, and almost 2-year-old Gia. Luciana kept her growing baby bump under wraps during her and Matt's most recent public outing at his American Cinematheque Award ceremony last month, but she's apparently on her way to expanding their family.
What an amazing addition to Matt's huge year — but he still needs those those PopSugar 100 votes to get his well deserved place in the Sweet 16! Best wishes to Matt, Luciana, and their kids!