Matt Would Like To Thank His Stuntmen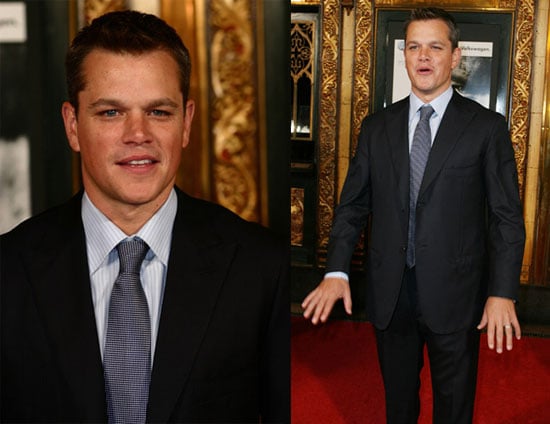 0
Matt Would Like To Thank His Stuntmen
Box Office Record Breaking Jason Bourne flew solo at last night's Sydney premiere of Ultimatum. These days it's rare to see Matt without his adorable family, but the trip down under was a bit too much traveling for his whole brood considering his rigorous premiere schedule this month. In an interview he lamented the fact that they all couldn't take the trip together and had this to say about being a nice guy playing such a tough one:
It's utterly ridiculous to friends who know me as very non-confrontational,'' he says.

"So when I'm kicking four guys' ass in one of the scenes I just think it's funny, as I look at that sequence and all I see is these great stuntmen trying so hard to make me look good.

"I love the character -- ultimately it's middle-aged wish fulfillment. Like I got hit on the head, wake up and speak all these languages, beat everyone up and women love me and I'm indestructible.''
Matt may not be indestructible in real life, but I don't think that "women loving him" is just part of the character. Quite the opposite really -- the fact that he seems like such a nice guy just makes him all the more dreamy.
To see more of cute Matt just