Matthew and Camila Welcome Their Second Child! 2010-01-03 11:40:01
Matthew and Camila Welcome Their Daughter Vida!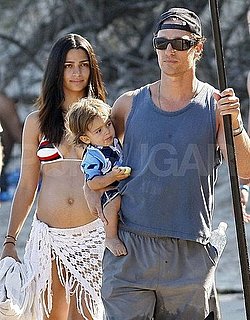 Levi McConaughey now is a big brother — his parents, Matthew McConaughey and Camila Alves, have reportedly welcomed their second child! No word yet on whether their new addition is a boy or girl, and we'll keep you updated as more details come in. Matthew and Camila announced in June that they were expecting another baby this Winter. Congratulations to the happy family!
UPDATE: Matthew went on his website to confirm his family's happy news, and to share that he and Camila welcomed a daughter named Vida this morning at 12:13 a.m.! He wrote, "Camila gave birth to a healthy 7lb. 7oz. baby girl named 'Vida Alves McConaughey" . . . 'Vida' is Portuguese for 'life' and that's what God gave us this morning. . . Camila's recovering wonderfully and we are both truly honored to welcome this little lady into our family. . . thanks for all your well wishes and prayers along the way."