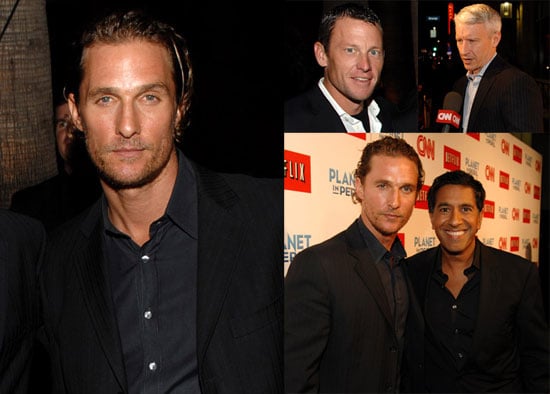 0
Matthew and Lance Reunite, Sadly No Jake
Two thirds of the most dynamic trio of 2006 — Matthew McConaughey and Lance Armstrong — reunited last night at a screening of CNN's Planet in Peril at Grauman's Chinese Theatre in Hollywood. I hope Jakey G. didn't feel too left out! Speaking of, whatever happened to those bike trips? I certainly miss them. Anderson Cooper was also there for the event, looking suave and dapper as always. The man just does not have an off day. Fresh off his shared People cover, MM was definitely working his sexy eyes at the camera, but there was no Camila on his arm to share in the man-tastic fun.
To see more from the event including Dr. Sanjay Gupta! just
Images include Anderson Cooper, Lance Armstrong, Matthew McConaughey, Jeff Corwin, Dr. Sanjay Gupta and Liesl Copland.